BlockFi

BlockFi is well known as one of the largest players in the cryptocurrency lending industry.
I myself have been using the service since its launch.
Many people must be familiar with the name of this company, as it is always mentioned when it comes to cryptocurrency lending services.
I would like to introduce the advantages and disadvantages from the viewpoint of my actual use of the service.
About the company BlockFi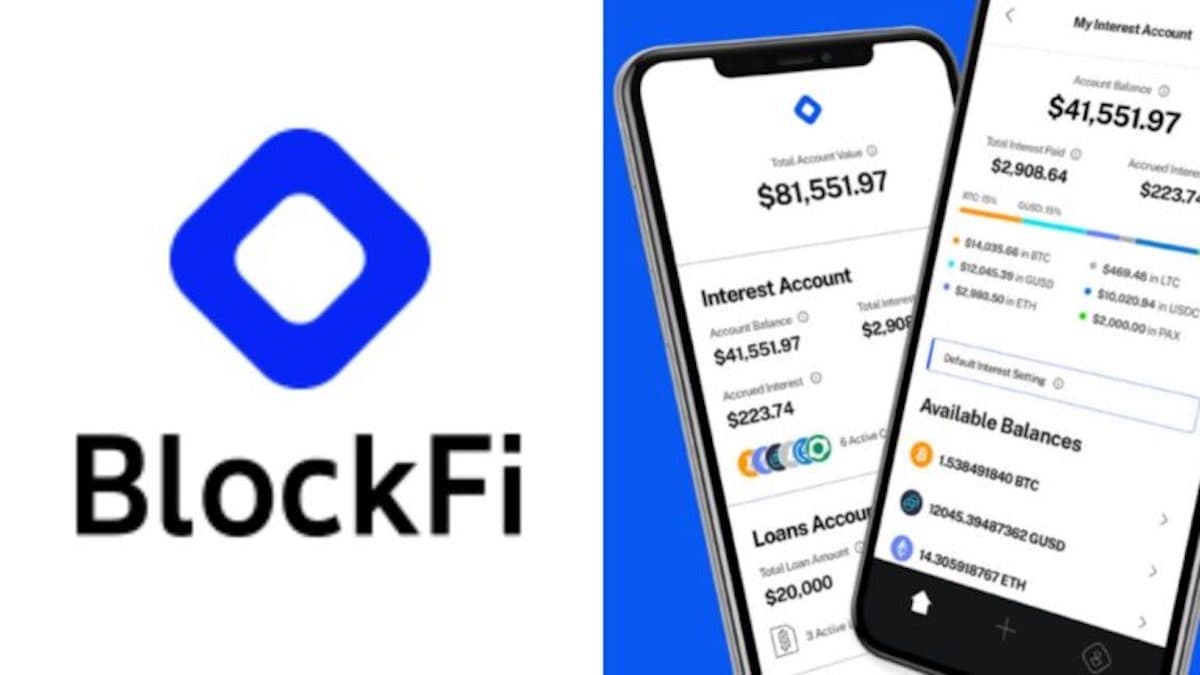 BlockFi is a crypto currency lending company founded in 2017 by Zac Prince in New Jersey, USA.
Currently, more than 1 million individual investors and as many as 350 institutional investors have 10B $ under management on BlockFi.
In June 2021, the company received a major Series E funding of $500M, and is a major venture in the crypto industry that is said to be aiming for an IPO on NASDAQ in the future.
And as of September 30, 2021, BlockFi has announced that it manages approximately $9.1 billion in client assets.
BlockFi is the world's leading provider of lending services.
BlockFi is a US based and strictly regulated company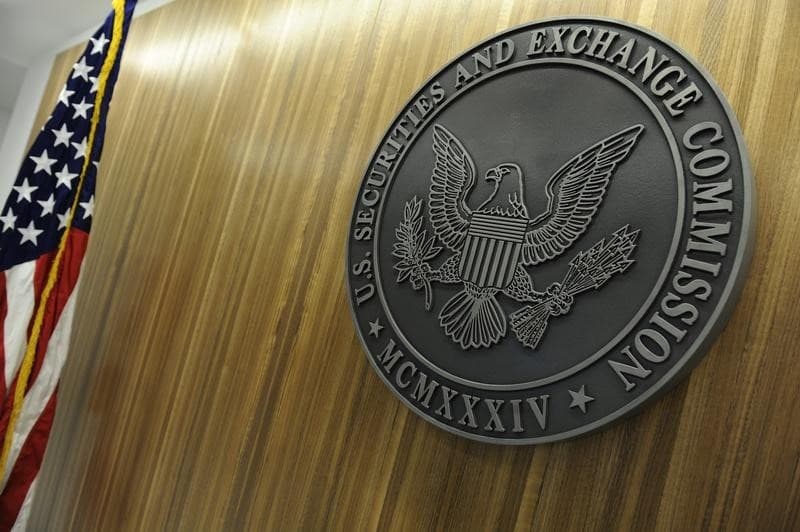 Due to strong regulations of the Securities and Exchange Commission (SEC) in the United States, there are few companies that provide crypto currency services headquartered in the United States.
BlockFi is one of the few U.S.-based lending companies that are subject to such strict regulations.
The fact that BlockFi is based in the U.S. and provides services while being regulated by the U.S. SEC is a major characteristic of BlockFi.
From the user's perspective, being well regulated is reassuring from an investor protection standpoint.
In addition, Gemini, the custodian used by BlockFi, is regulated by the New York State Department of Financial Services.
BlockFi has not issued any ICOs (investor offerings) or utility tokens to date to raise funds.
All funding has been raised from VCs and other investment institutions.
And BlockFi continues to pay stable interest rates by making a profit through our loan lending business only.
Other lending companies operating in the U.S. include Nexo and Celsius Network.
BlockFi Investors

BlockFi is also known for its investments by prominent investors and VCs.
It has received investments from CoinbaseVentures, the VC of Coinbase, the top cryptocurrency exchange in the U.S., Winklevoss Capital, the VC of the Winklevoss brothers of Gemini, Valar Ventures, Morgan Creek Capital Management, and other well-known investment funds.
It is clear from the VCs and seed investors in BlockFi that BlockFi is a promising company.
BlockFi itself has also made significant investments and is a large holder of GBTC, a bitcoin mutual fund offered by Grayscale, purchasing approximately 240,000 BTC of physical GBTC.
Service of BlockFi
BlockFi provides services to individuals and institutional investors in the United States and around the world.
BlockFi offers four main services.
Lending Services
Loan Services
Trade Services
Rewards Credit Cards
1.Lending Services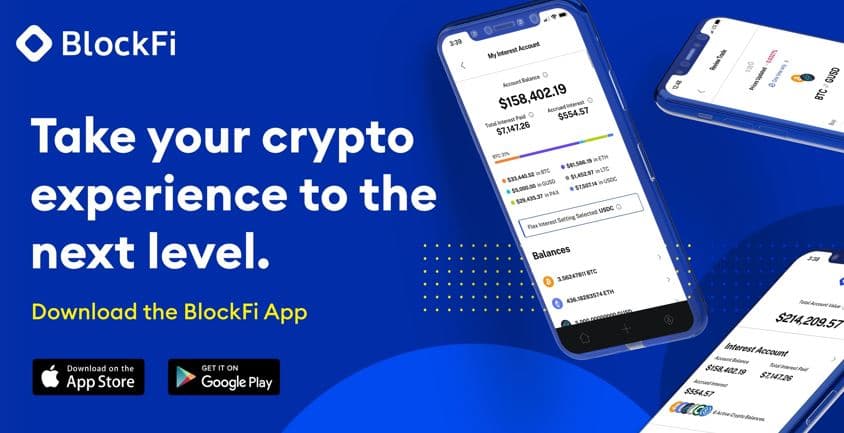 With BlockFi's Interest Accounts, you can earn interest rates ranging from 3% to 8.6% on crypto currency you deposit.
There are no fees or minimum balance requirements.
Interest rates vary by currency type and fluctuate with market value.
Interest accrues daily and is added to your account monthly and can be compounded.
A service called Interest Payment Flex Option allows you to choose the currency in which interest is paid.
For example, you can deposit USDT and receive interest in USDC.
I also used to deposit USDT, which has a high interest rate, and receive USDC.
In addition to personal accounts, corporate accounts can also be set up.
Note that corporate accounts can earn interest in the same way as personal interest accounts, but opening a corporate account requires more documents and more KYC (verification of the beneficial owner of the corporation, etc.) than personal accounts.
Types of cryptocurrencies that can be used for interest services at BlockFi
BlockFi offers interest services in popular top market cap major crypto currencies including Bitcoin and Ethereum.
It also supports many stable coins, including Gemini USD, which is supported by BlockFi as a custodian.
Crypto Currency
Bitcoin (BTC)
Ethereum (ETH)
Link (LINK)
Litecoin (LTC)
PAX Gold (PAXG)
Stable Coin
USD Coin (USDC)
Gemini Dollar (GUSD)
Tether (USDT)
Binance USD (BUSD)
The number of supported coins is small compared to other lending companies.
While other lending companies add coins as the market needs arise, BlockFi has almost no opportunity to increase the number of coins it supports.
The same major companies, such as Crypto.com, are gradually adding coins as the market needs. Whether this is a disadvantage or an advantage is up to the individual, as only trusted coins are supported and it is safe.
I have decided that BlockFi is unavoidable because the size of assets in custody is too large.
GUSD is a stable coin that only BlockFi supports and no other lending company does.
Interest Rates for BlockFi Lending Services
Interest rates often fluctuate with market trends.
Sometimes they go up, sometimes they go down.
BlockFi's interest rates are frequently updated on a monthly basis. BTC and ETH in particular are often revised.
I have seen many tweets on Twitter lamenting that BlockFi's interest rates have been revised. From the perspective of users who actually deposit assets, this is unfortunate.
I personally like the fact that the rates are updated according to the needs and demands of the market.
The latest Interest Rates are listed on the following page in comparison with other competing companies
BlockFi rates interest rates
2.Loan Services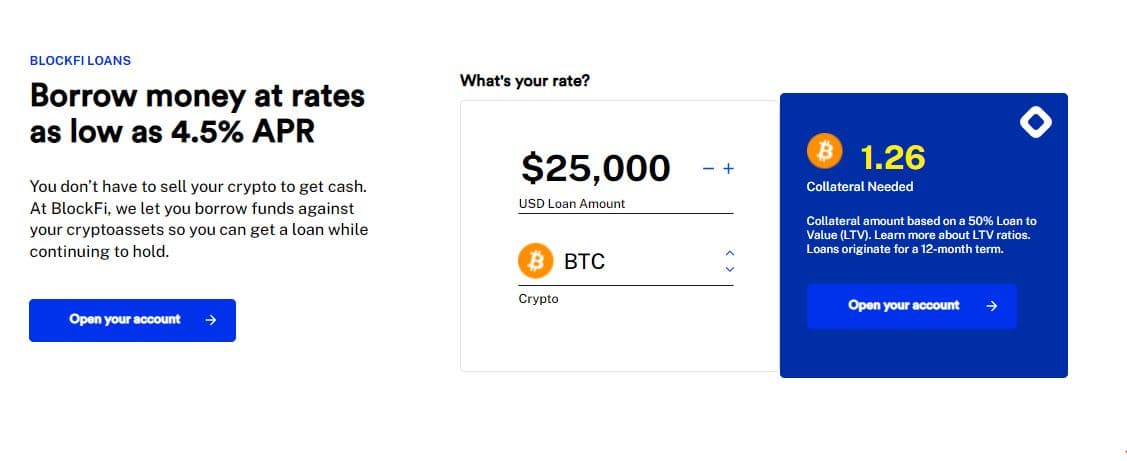 BlockFi allows you to make loans using crypto currency as collateral.
This business model is designed to be used when you hold crypto currency as an asset but do not want to sell it, but need cash.
You can use a BlockFi loan to finance the purchase of goods, refinance debt, or even make a down payment on a house.
With a crypto currency-backed loan from BlockFi, you can borrow funds in US dollars against your collateral crypto currency at interest rates as low as 4.5%.
This is less expensive than borrowing from a bank.
You can also borrow USD, GUSD, or USDC with Bitcoin, Ethereum, or Litecoin as collateral.
You then pay a 2% fee to receive the loan and pay interest ranging from 4.5% to 9.75%, depending on your LTV.
Loans secured by crypto currency also have tax advantages. Instead of selling and getting cash, borrowing funds secured by crypto currency means that you do not have to report capital gains. This saves taxes due to trading gains.
Additionally, interest may be tax deductible.This could further reduce your tax bill.
One caveat is that, as is true of all lending companies, you risk losing your collateral (crypto assets) if the value of the crypto currency you deposit drops.
For example, if 1 BTC was worth 50,000 USD when you deposited it, but 1 BTC crashes to 25,000 USD and is cut in half, you will not have enough collateral to support the loan balance.
If you take out a loan, you need to maintain a collateral ratio of at least 50% loan-to-value (LTV) ratio, regardless of market crashes.
3.Trade Services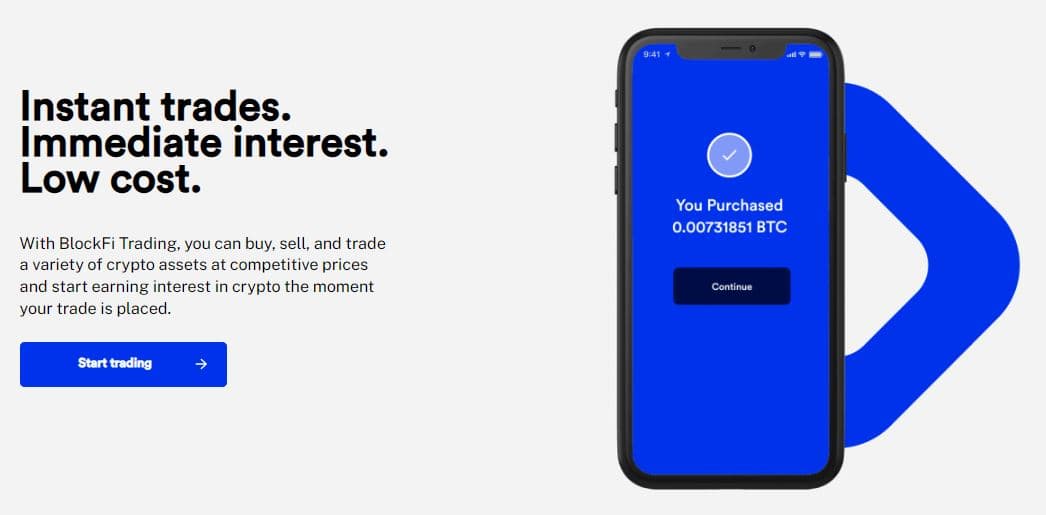 BlockFi allows you to trade using funds in your interest account.
There are no fund locks, so you can trade at any time using your interest account.
There is a limit on the amount of trades you can make, but there are no set commissions for trades.
You can also automate your trades and repeat them daily, weekly, or monthly.
This is a convenient feature depending on how you do it, and this automated trade feature is not available at any other lending service company.
Other lending companies also offer a trade function, but even though there is no trade fee, it is treated as a sales office, so it will settle at a higher price than a trade on the market.
I have seen the settlement price several times and it was quite expensive, so I recommend that you do not use the trade function on BlockFi unless you have a good reason.
4.Rewards Credit Cards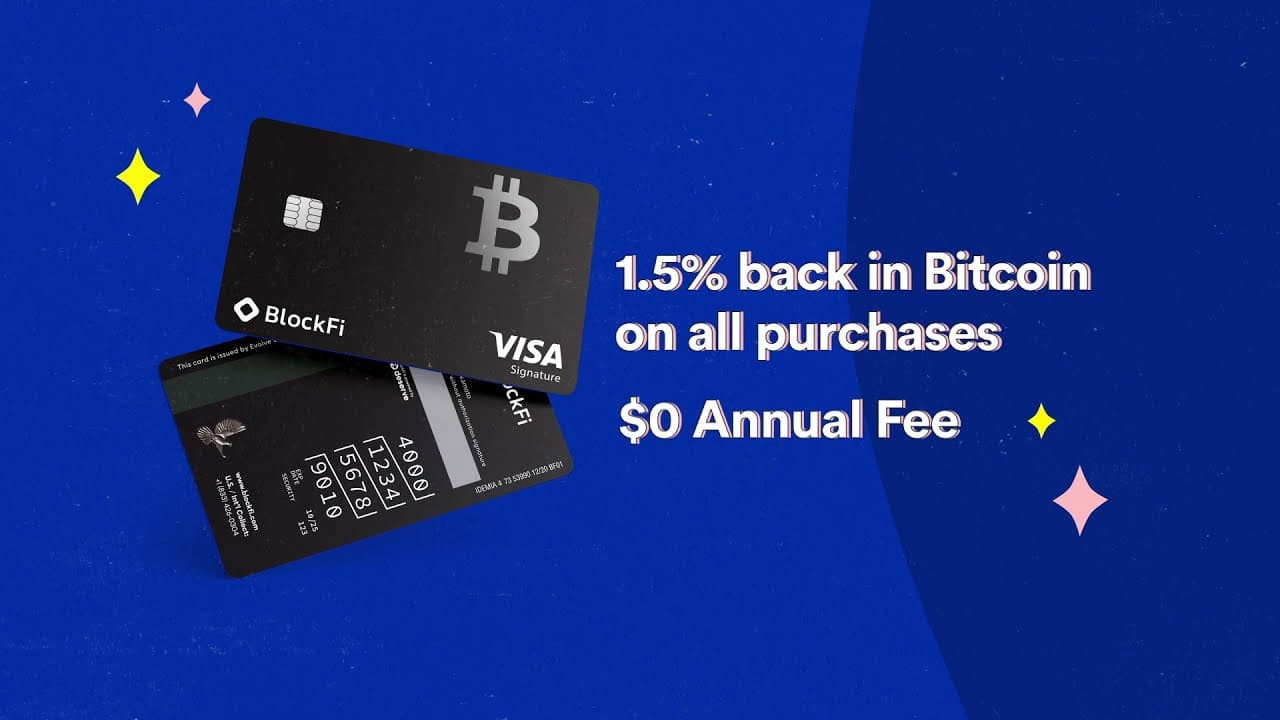 Credit cards using crypto currency are now a common service, with competitors Crypto.com and Nexo also starting to offer this service.
BlockFi was the first in the industry to offer this now-common crypto currency credit card service.
BlockFi offers a Visa credit card that earns 1.5% in bitcoin for every purchase made with a BlockFi credit card.
Please note that the application requires credit approval and you must follow the prescribed procedure.
Overview of BlockFi Service Fees
While you will pay fees and interest when you use a crypto currency-backed loan, BlockFi does not charge transaction fees for transactions on BlockFi.
There is no charge to withdraw funds from your account's interest account, up to once a month.
Nexo offers the same service, but this no charge up to once a month is a conscientious service.
Other lending service companies often charge a withdrawal fee of $20 or $30 the first time.
For the second or more times, the following fee is paid per withdrawal for each crypto currency.
BlockFi Withdraw Fee
| Crypto | BlockFi Fee |
| --- | --- |
| BTC | 0.00075 BTC |
| ETH | 0.02 ETH |
| LTC | 0.0025LTC |
| Stable Coin | $ 10.00 USD |
| Link | 0.10 Link |
| PAXG | 0.015 PAXG |
BlockFi Security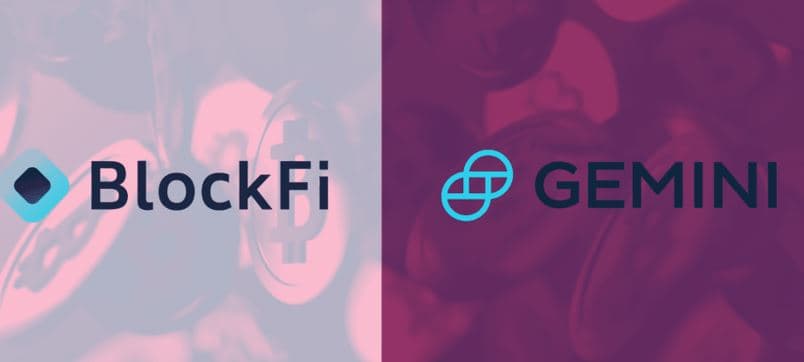 BlockFi's custody services are primarily provided by Gemini, with third-party services such as BitGo and Coinbase.
According to Gemini, 95% of BlockFi's user funds are managed in cold wallets and 5% in hot wallets.
The fact that 95% is also managed in cold wallets may be the reason why withdrawals take several days.
If this is true, the level of security is very high.
It can be said that it is not surprising that withdrawals take so long. It must be a policy of BlockFi, which places great emphasis on security.
I could not find any detailed information about insurance.
BlockFi is one of the few US-based lending companies that follows US federal and state regulations.
However, since it is not a bank or brokerage account, it is not covered by FDIC or SPIC insurance.
Therefore, if you are hacked, you may not get your deposited funds back.
As with any lending service company, there is a risk that your deposited assets will not be returned in the event of a loss.
You should be aware of this risk when using any lending service, not only BlockFi.
2FA can be set as a security measure on an individual basis, so be sure to set 2FA.
There is also a self-service security feature called Allow listing that allows you to prohibit withdrawals and restrict them to specific addresses.
BlockFi also offers a full range of security measures that can be taken by individuals.
BlockFi Mobile App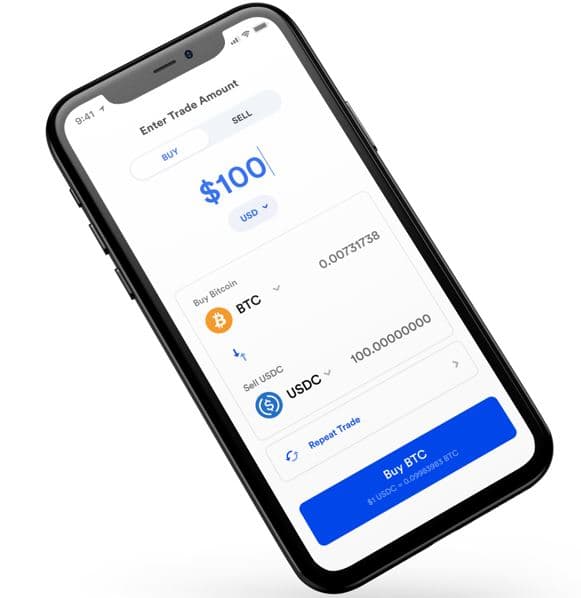 BlockFi offers mobile apps for iOS and Android.
If I may be harsh, the app is a bit disappointing considering this is the top mobile app in the industry.
However, it is a simple mobile app that is neither too simple nor too complicated, just a little slow.
If you just want to check your deposited funds and the interest paid out daily, I think it's a perfect app.
2022 BlockFi Review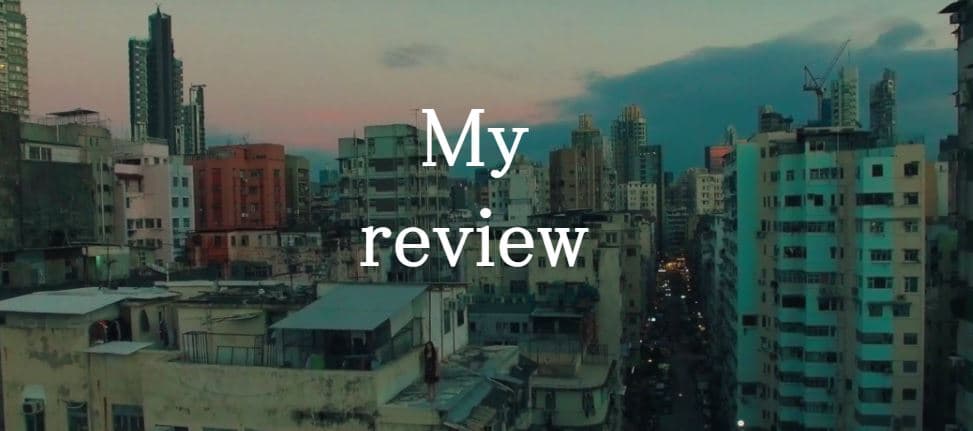 I describe the advantages, disadvantages and summary from my point of view
Pros and Cons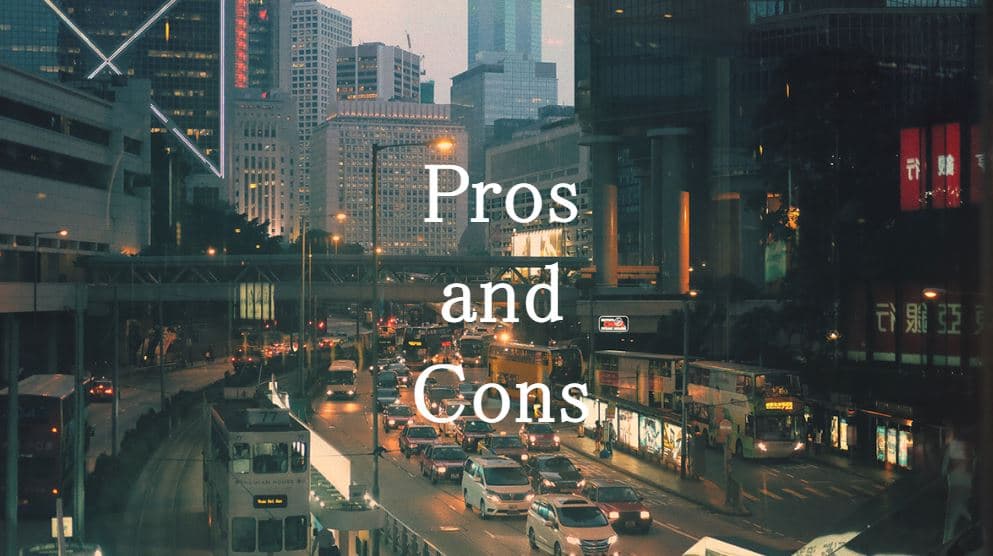 Pros
Reliable, one of the top companies in the industry
Financially strong, as the company has raised a large amount of capital and has world-class investors
High level of security, as 95% of the assets in custody are in cold wallets
Cons
Fewer coins supported
Withdrawals take several days
Interest rates are a little lower than other companies
Summary
BlockFi is the industry leader and is strictly regulated in the U.S., so its reliability is the biggest advantage over other lending companies.
As for APY, it is inferior to other emerging lending companies such as Youhodler and Coinloan, although it is a major player.
BlockFi is a large company and is often seen in the news.
There are also many reviews by people on Twitter and blogs, so there is a lot of information available, which is a good thing because it is a large company.
There is also the fact that a large VC firm has invested in BlockFi because they are aiming to go public in the US.
As a lending company, they are the most promising company in the crypto currency industry in the future.
I must say that if BlockFi cannot go public, it will be difficult for other lending service companies.
Because it is a top company, I can recommend this company to novice investors who are using lending services for the first time.