Bitkub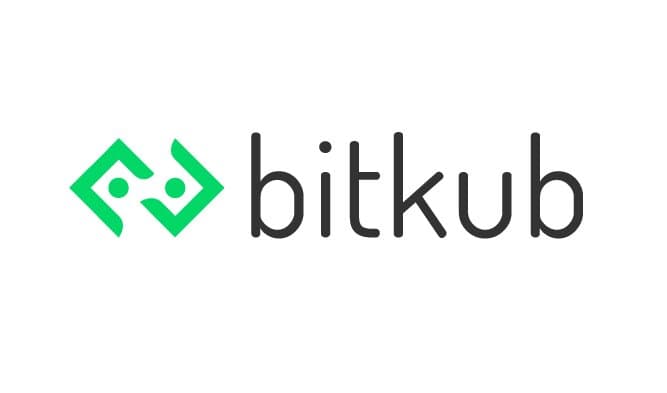 Thailand has seen tremendous popularity of crypto currencies.
There are currently many exchanges doing business, but there is one exchange that is gaining popularity by leaps and bounds.That is Bitkub.
In this article, I would like to describe Bitkub, the top crypto currency exchange in Thailand in terms of transaction volume.
About the company Bitkub and background

Bitkub is a crypto currency exchange established in 2016.
Let me first look back at the history of crypto currency in Thailand in regards to Bitkub's business transition.
At the time of Bitkub's establishment in 2016, Thailand did not yet have a legal framework for crypto currency.
There were a few crypto currency traders at that time, but trading crypto currency in Thailand was still a legal gray area.
It might be easier to understand if I imagine that they were operating as deemed traders before the law was enacted, just like in Japan.
The author himself has been trading bitcoin on the Thai crypto currency market since 2016.At that time, the price of bitcoin was still around 20,000 baht.
Bitcoin in Thailand was often at a premium price and exchanged at about 5% higher than the rest of the world.
Compared to the rest of the world, the price was relatively high, and above all, there was an atmosphere of reluctance to deposit funds on an exchange.
There would be no protection of customers' assets, and since there was no law, they would have to use the system completely at their own risk if anything went wrong.
The systems provided by the exchanges were not good and lacked reliability.
Before the law, it was an underground world.
Then, with the crypto currency bubble of 2017, crypto currency began to be recognized by the public and fraud was rampant, which led Thailand to establish a law against crypto currency.
A year later, in May 2018, the Digital Bill was enacted by the Thai SEC to put the law in place.
While there were many vendors who were not granted licenses and went out of business, Bitkub, along with BX Thailand and Satang Pro, successfully obtained an exchange license.
At the time, these were the only three companies that could obtain an exchange license. and BX Thailand boasted the largest share of the Thai crypto currency market.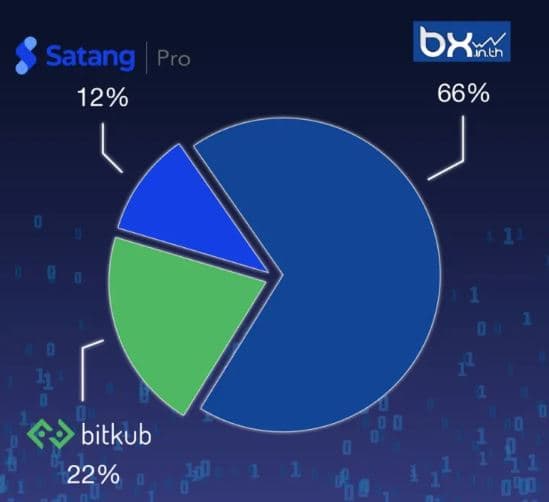 I also used only BX Thailand when using a crypto currency exchange in Thailand, and BX Thailand almost monopolized the market.
I knew Bitkub existed, but I avoided using it because I thought it was even more suspicious than BX Thailand.
They were trying to differentiate themselves from BX by listing many altcoins, but they were unable to acquire any customers and continued their business in a slim way.
At that time, unlike now, Bitcoin trading volume was high and altcoins were not popular at all.
Even after obtaining the 2018 license, users continued to use BX Thailand, and Bitkub was in second place, having largely lost market share.
This situation continued until August 2019, but things changed in September of the same year when BX Thailand suddenly announced on its website that it was shutting down.
At that time, only Bitkub and Satang Pro had exchange licenses, and Thai crypto currency traders who had nowhere else to go were forced to move their trades to Bitkub.
A mass migration of users occurred, with Bitkub taking on all of BX's customers.
In fact, I was one of the users who moved to Bitkub at that time.
Bitkub, which now dominates the market share, had a difficult time for about three years from its establishment in 2016 to 2019, when BX Thailand voluntarily closed its business, and it was lucky to dominate the market, so to speak.
Now, it has become a well-known exchange and a leading company in Thailand.
Although many exchanges such as Zipmex, Upbit, and Bitazza have opened their doors to date, Bitkub's market dominance has not been broken.
Although Bitkub was lucky enough to monopolize the market, its competitors have not been able to take market share away from Bitkub, and the fact that it has been able to maintain its monopoly can be said to be a strength of Bitkub.
The above is a brief history of Bitkub from its inception to the present.
Next, let us look at Bitkub's corporate structure.
Bitkub Company Structure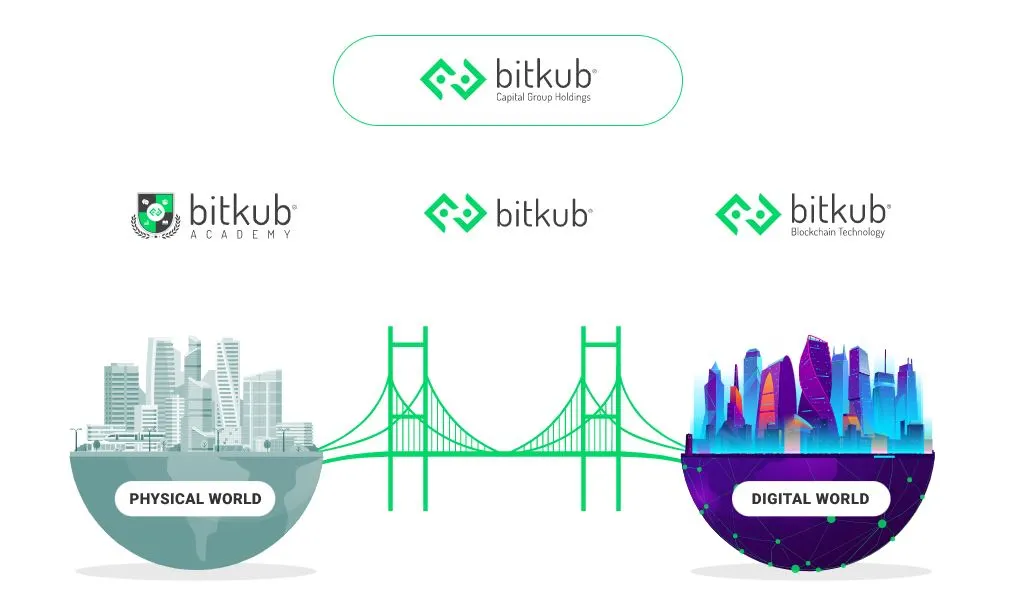 Bitkub has a holding company, BITKUB CAPITAL GROUP HOLDINGS COMPANY LIMITED, at the top of the organization, under which the companies are divided by business.
The list of spun-off companies is as follows.
Bitkub Company structure
Compnay name
Founded
Capital stock
Main Businesses
BITKUB ONLINE COMPANY LIMITED
July 29, 2016
450 million THB
crypto currency exchange business
BITKUB CAPITAL GROUP HOLDINGS COMPANY LIMITED
February 6, 2018
70 million THB
holding company
BITKUB BLOCKCHAIN TECHNOLOGY COMPANY LIMITED
February 28, 2018
778 million THB
Provides and develops blockchain-related services.
Release of KUB coins and Bitkub chain, etc.
BITKUB LABS CO., LTD. Company Limited
March 9, 2020
5 million THB
bitkub ACADEMY, Educational Business
BITKUB VENTURES CO., LTD.
August 24, 2020
10 million THB
Investment business in the non-financial sector
BITKUB M CO., LTD. Company Limited
November 26, 2021
50 million THB
Investment consulting
BITKUB INFINITY CO., LTD. Company Limited
November 29, 2021
5 million THB
Funds entries
BITKUB WORLDTECH CO., LTD.
January 16, 2022
5 million THB
Education Business
The official company name of the Bitkub exchange that users usually use is BITKUB ONLINE COMPANY LIMITED.
In addition, Bitkub Blockchain Technology Company Limited is responsible for the system development of the exchange and the Bitkub chain blockchain.
These two companies are Bitkub's main business, but the company is expected to diversify its business in the future.
Bitkub CEO Topp Jirayut Srupsrisopa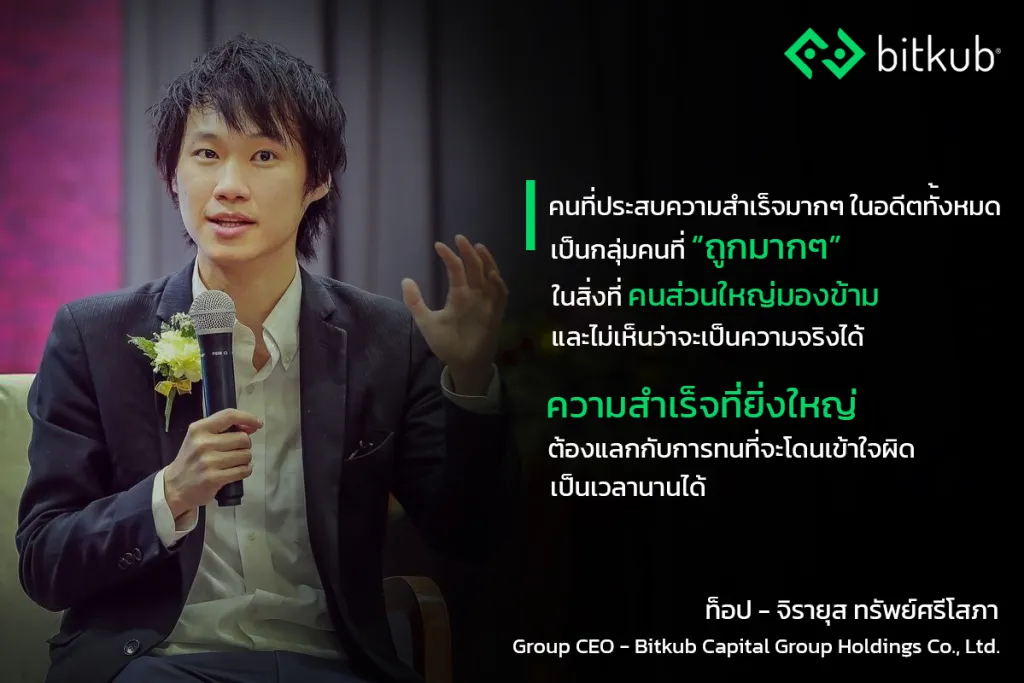 The CEO of Bitkub is Topp Jirayut Srupsrisopa.
He is a very important figure in the Thai crypto currency story.
He is a serial entrepreneur who launched Coin.co.th in 2014 when he was just 24 years old and Bitkub in 2016.
The first company, Coin.co.th, is a Bitcoin seller and received a Dealer license from the SEC in 2018 and is still operating today.
He is currently focused on Bitkub's business and you can see him all over the streets of Thailand, but he is on the front lines as Bitkub's billboard to promote the company. He is currently only 31 years old.
His foresight is tremendous, as evidenced by the fact that he started his own Bitcoin business in 2014.
And now he has become a representative of Thailand's young generation.
When BX Thailand pulled out, its competitor Satang Pro had the same chance to dominate the market as Bitkub, but Satang Pro could do nothing.And now they have been largely let down.
Bitkub's growth has been due in large part to his management skills.
That's it for the Bitkub overview.
crypto Currency Exchange Bitkub Features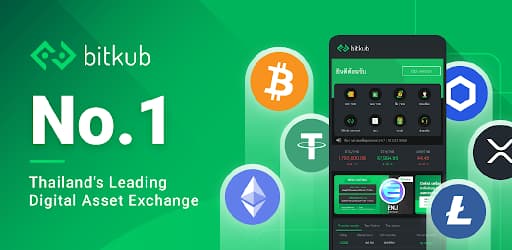 I would like to describe the features of Bitkub's exchange.
Highest trading volume in Thailand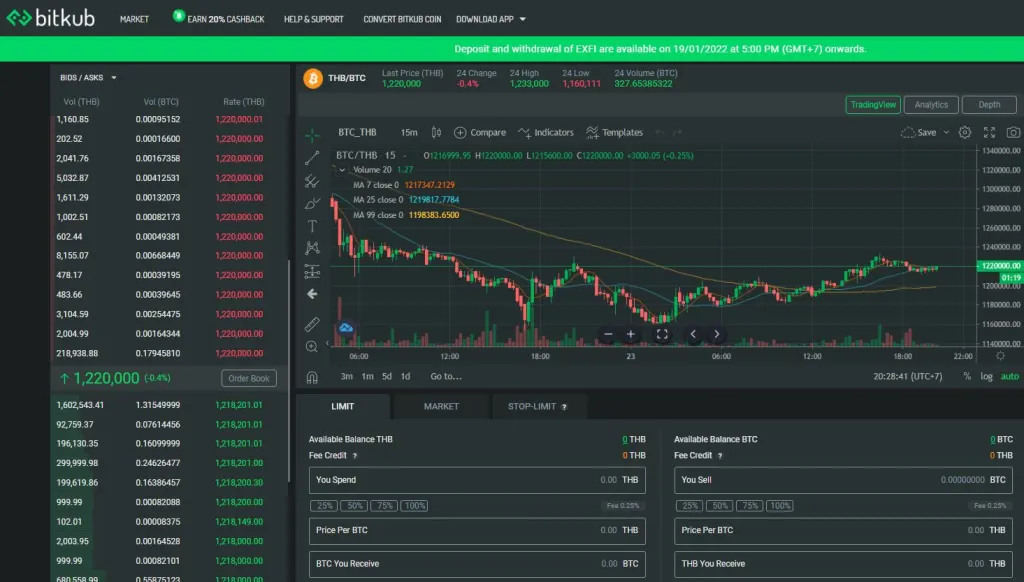 The first characteristic of Bitkub is that it is the top company in Thailand with the number one share of the crypto currency market.
In addition to Bitkub, there are five other licensed exchanges operating in Thailand.
Zipmex (the second largest in the Thai crypto currency market)
Satang Pro (a well-established exchange similar to Bitkub)
Bitazza (3rd largest on the Thai crypto currency market)
Upbit (overseas branch in Upbit South Korea)
Z.comEX (Japan's GMO overseas brand)
The combined trading volume of all of these non-Bitkub exchanges is not far behind Bitkub.
Bitkub dominates the Thai market.
As supplementary information, similar markets apply to Indonesia and India.
In India, WazirX raises almost all the trading volume in the Indian crypto currency market, and when it comes to Indian crypto currency, it is WazirX.
In Indonesia, Indodax is the top exchange, accounting for almost all Indonesian crypto currency market share.
The leading crypto currency exchange in Thailand is undoubtedly Bitkub.
As for the other exchanges, they are probably losing money or even worse, are losing money due to the high operating costs of the exchange's systems, 24-hour personnel, and so on.
As for Bitkub, which dominates the Thai market, its sales are booming and it has grown into a highly profitable company.
In terms of profit, Bitkub is the only company that is winning the market.
About Thailand Crypto Market and other exchange informations are below
Capital from one of Thailand's top three banks injected into the company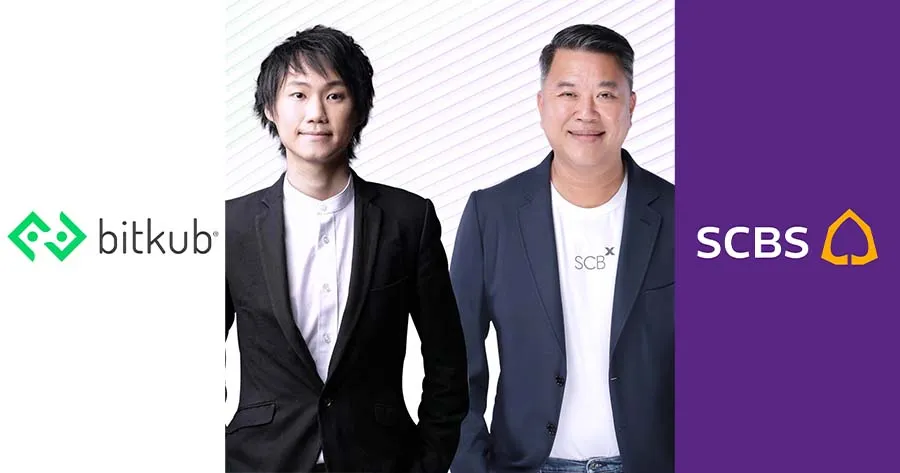 SCB, one of Thailand's top three private banks in 2021, has acquired a 51% stake in Bitkub, making it its parent company.
SCB is a company in which the king of Thailand is the largest shareholder.
Bitkub is now the company with the best backing.
Barring something worse, I'd say Bitkub is unlikely to go under again.
Management team consists of young members in their 20s and 30s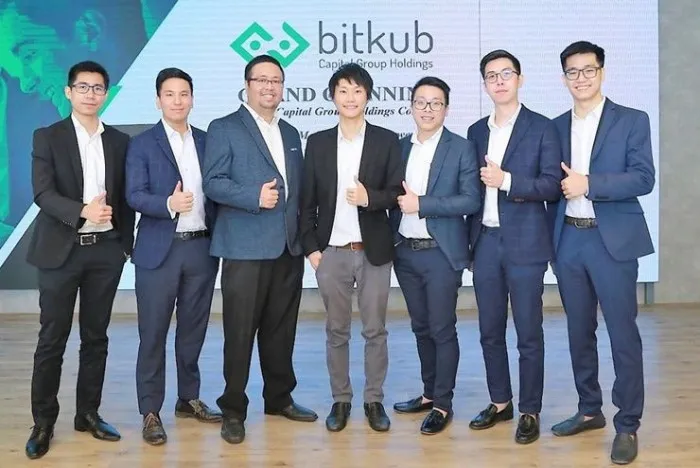 Bitkub is a young company with members in their 20s and early 30s, led by CEO Topp Jirayut Srupsrisopa.
Only the Chairman, Mr. Sakolkorn Sakavee, is one generation older than the rest of the management team.
He was originally the president of an E-Sports game development company in Thailand.
The Bitkub exchange and blockchain-related development team is comprised of former members of his company.
Other Thai exchanges, such as Zipmex with members from brokerage firms and the business world, Upbit Thailand with the CP Group, and Bitazza with financial members from Hong Kong and Malaysia, are all composed of mature individuals.
Bitkub is a company run by a younger generation compared to its competitors.
Using a proprietary trading system developed in-house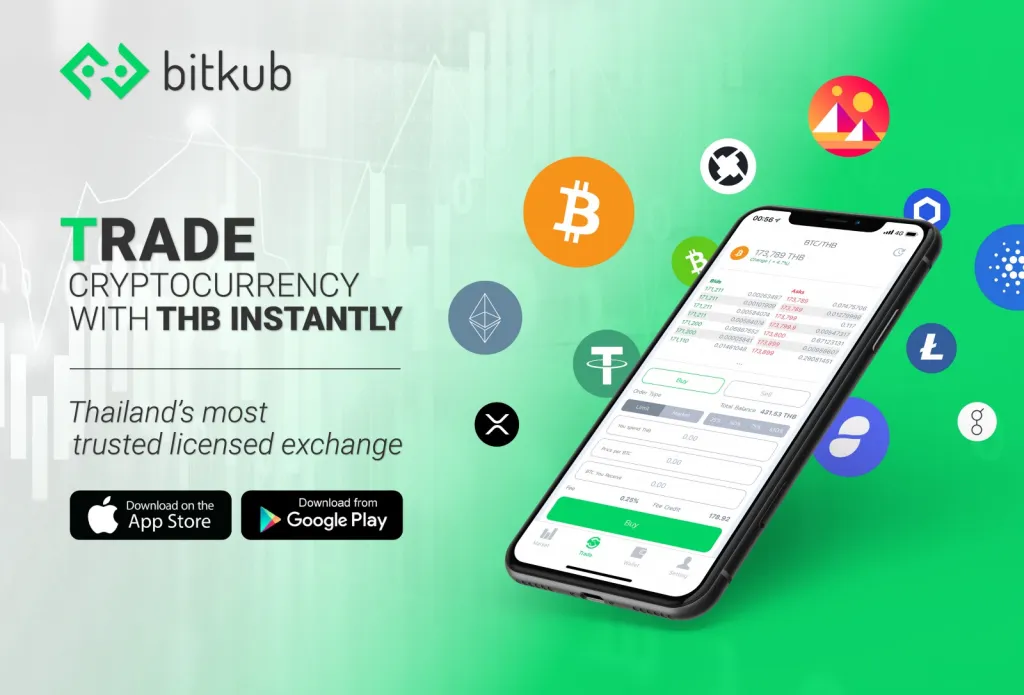 Bitkub's exchange system uses a proprietary system developed in-house.
The development was done by BITKUB BLOCKCHAIN TECHNOLOGY COMPANY LIMITED.
Other competitors Zipmex and Bitazza use AlPhaPoint's white label, Upbit Thailand uses Upbit's white label, and SatangPro uses Binance's white label.
All of the competitors do not have their own exchange systems, but use other companies' products by paying for licenses.
Bitkub has its own group of developers and is also a highly technical company.
Issued its own token, KUB Coin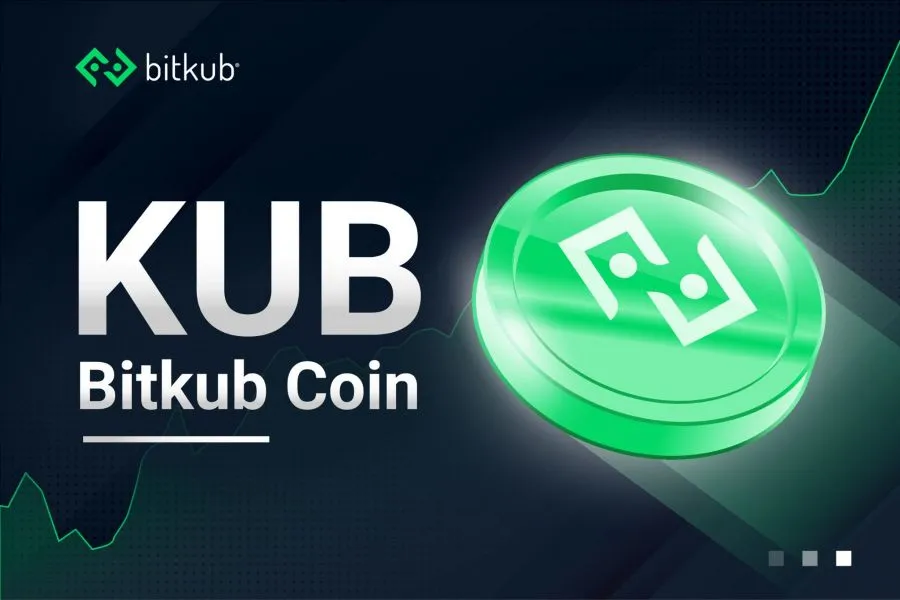 It is a utility token that can be used on the proprietary Bitkub chain.
It also offers features such as discounted exchange fees, and the company plans to add more features as the Bitkub ecosystem expands.
It would be easier to understand if you imagine Binance's BNB token.
It is quite similar to the BNB concept.
The total supply was 1 billion KUB, some of which was given away for free to users of the Bitkub exchange in April 2021.
The Bitkub coin started trading at about 30 THB at the time it was given away for free to users, but by the end of 2021, the price had risen to 450 THB.
It is also known as the coin that saw its price soar by a factor of 15 within a year.
Today, it has grown to compete for the first and second place in trading volume on Bitkub.
It is a local Thai coin with high expectations for the future.
In Thailand, it can be traded only at Bitkub, and overseas at Gate.io and MEXC.
Issued its own token, KUB Coin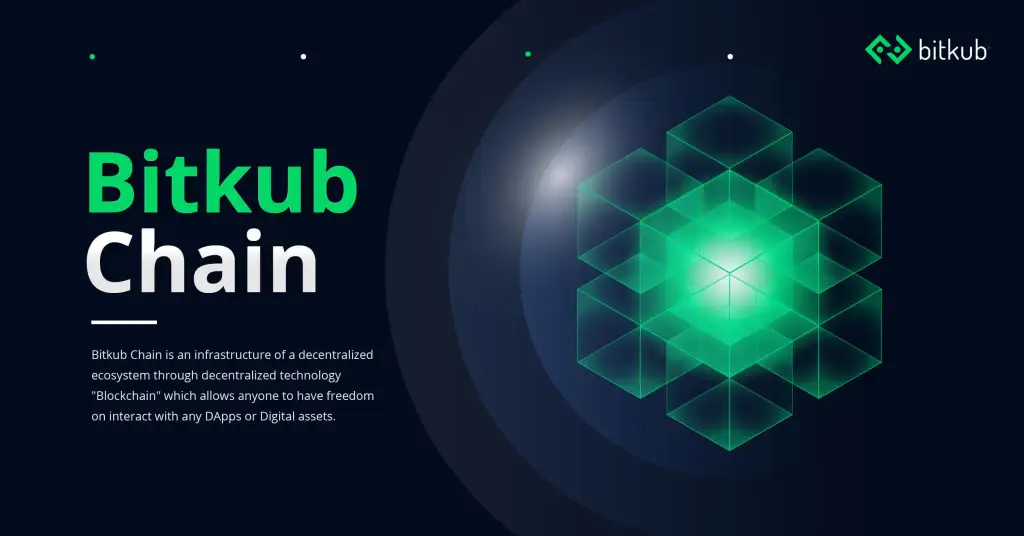 Bitkub has released its own chain, the Bitkub chain.
It is a perfect copy of Ethereum and compatible with the ERC20 standard.You can think of it as almost the same blockchain as Binance's Binance Smart Chain.
It can do everything that Ethereum and Binance Smart Chain can do.
As with BSC, the major difference with Ethereum is the low transfer fee.
Future Business Strategy of Bitkub
Bitkub plans two main strategies for the future.
Stock listing
Bitkub is aiming to become the Coinbase of Asia and has announced its intention to go public on the SET (Stock Exchange of Thailand) and NASDAQ (IPO).
I personally think this as a strong possibility.
The company's sales are already many times higher than those of companies listed on Thai stock exchanges, and its profit margins are high. The tax situation is perfect.
The trading volume is also comparable to exchanges in other Asian countries.
While not as high as the Japanese giants BitFlyer, Coincheck, or South Korea's Upbit, it is the top exchange in Southeast Asia in terms of trading volume.
Expansion into Southeast Asia Other crypto market
Currently, the company has a market monopoly in Thailand, but it appears that it is planning to enter the Philippines and Malaysia in the future.
The company may have decided that it would be difficult to enter the Indonesian market since Indodax already has a monopoly in that country, but I think this is a wise decision.
The Philippines and Malaysia have low transaction volume and crypto currency itself is not booming in some areas, so these markets are promising.
2022 Bitkub Review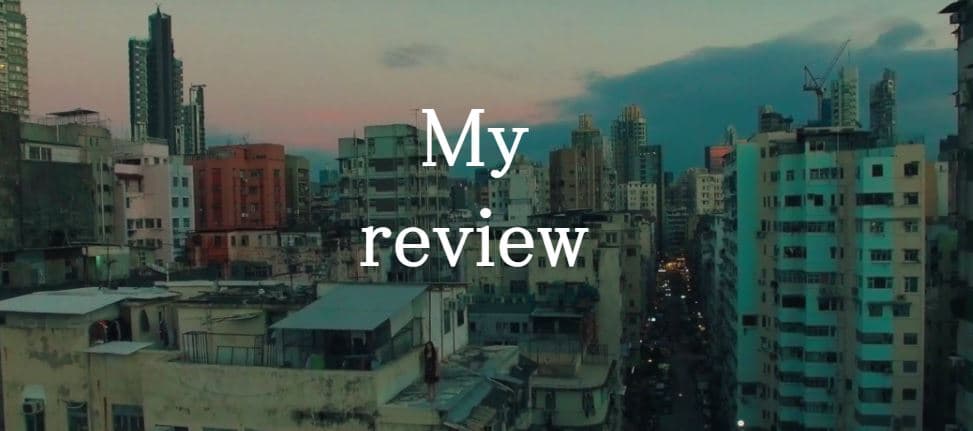 I describe the advantages, disadvantages and summary from my point of view
Pros and Cons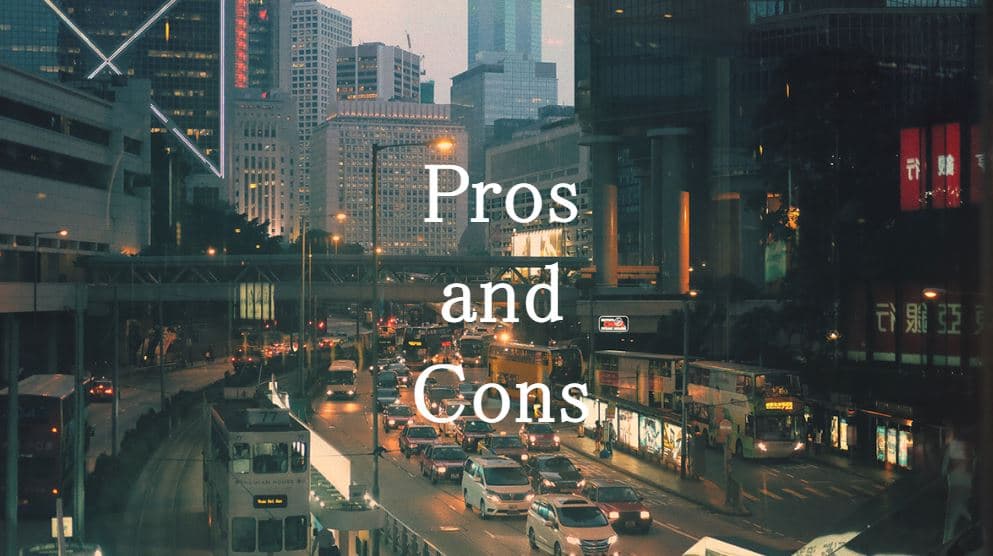 Pros
Highest liquidity in Thailand, easy to settle
Capitalized by a major bank for peace of mind
Easy to use system
Cons
No interest earning service is offered simply by depositing the money.
Summary
Bitkub's reputation is currently very good.
In fact, Bitkub's reputation was not good until about early spring 2021.
This is because in 2020, they had several system failures, causing damage and lost opportunities to users.
The system really had errors again and again, and sometimes even stopped.
Then, in January 2021, the company received a warning from the SEC Thailand after a major system failure, which led to the suspension of accepting new customers and an order to improve system operations.
At the time of the SEC warning, Bitkub was being vilified by users, and there were rumors that the company might go bankrupt or even lose its license.
At that time, it really did not have a good reputation even among Thai users.
However, the system has now been improved and there have been no major outages.
The company has also become more reliable financially, as SCB has become a major shareholder.
It was also after SCB became a major shareholder that the KUB coin soared.
Bitkub has become a very promising company and I can say without a doubt that it has a good reputation as far as KUB coins are concerned.
I myself think that Bitkub is the only way to trade in Thailand.
Bitkub is an exchange that I can recommend that if you want to trade crypto currency in Thailand, you should open an account with Bitkub first.